SILICON VALLEY CONFIDENTIAL TV SERIES
This TV series is based on real cases from Dr. Brady's 25 years of work in Silicon Valley as a forensic psychologist. SVC's stories are culled from tens of thousands of hours of Brady's analysis exploring why some residents of one of California's richest regions ended up committing heinous crimes. A secondary theme in the series, after discovering what makes Silicon Valley's criminals tick, is pulling back the curtain to find out why the Valley's corporate technology billionaires don't want the public to know what's really happening.
Dr. Brady is a criminologist and California licensed forensic psychologist. He has written five books on addictions and as a celebrity analyst he strongly supports the position that some rich and famous celebrities steal because they are they are addicted to the thrill of it. His books include: Men of Steal (a complete analysis of the three men in this article) and Treat Me Right- Help For Behavioral Addictions Including Theft/Fraud Crimes. He also devotes his professional time to helping criminal defendants who have been falsely charged and convicted of crimes they didn't commit.
Featured Interviews and News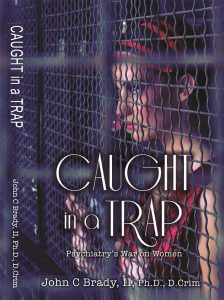 Caught in a Trap tells the stories of twelve remarkable women who through no fault of their own became enmeshed in the uneven world of psychiatry and psychiatric medications. Each woman presents a unique point of view as to what happened leading up to her psychiatric referral. I'm sure each doctor has an explanation why they were medicated using powerful and mostly ineffective psychoactive drugs to treat sometimes even minor legal-social-psychological issues (e.g., shoplifting). Perhaps the negative outcomes including psychiatric hospitalizations weren't intentional but that's where, for instance, Barbara Gordon, an award-winning TV producer and writer, ended up. In Caught in a Trap Dr. Brady argues that psychiatric medications are not the answer to women that steal.
Coming Soon: Caught in a Trap