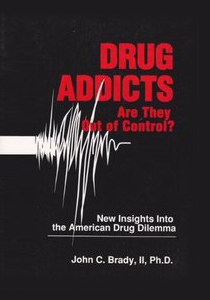 Drug Addicts: Are They Out Of Control?
This book deals with institutionalized drug offenders committed to the California Rehabilitation Center, CRC in Southern California. During the 1920's this correctional facility was a health spa catering to some of Hollywood's biggest motion picture stars. The "rich and famous" frequented the resort to use the natural sulfur springs and to just get away from it all. Later the State of California purchased the property converting it to a drug treatment center.
Even though facilities like CRC have demonstrated some positive results chemical dependency remains one of today's largest challenges facing society. More than a million drug abusers are treated each year and with today's prescription drug epidemic many more will be treated in the next few years.
Dr. Brady's Drug Addicts: Are They Out of Control provides us with increased knowledge concerning why individuals turn to drugs as a solution to their problems. Dr. Brady establishes that drug abusers perceive themselves as out of control psychologically and they see the world around them as hopeless. This lack of power and the belief that their lives are controlled by external forces leads addicts to seek an immediate solution to their life dilemmas.
In subsequent studies Dr. Brady discovered that shoplifters and other categories of criminals also feel out of control. To resolve their life issues sometimes they choose crime that itself becomes a type of addictive process. This notion is expressed in his books Why Rich Women Shoplift and Men of Steal. The Associate Warden at CRC commented on Drug Addicts: Are The Out of Control: "After having worked at this institution for over 20 years, I can say that Dr. Brady's study of out of control drug users depicts a different and more humane side of CRC. He took the time and effort to examine the psychological characteristics of CRC residents. Dr. Brady's conclusions are useful and his study casts an important light on this state's drug abuse problem."
Perhaps some of Hollywood's beautiful people suffused with their own chemical/alcohol issues might profit from a relaxing stay at CRC—the one time pleasure resort.
Product Details
Hardcover: 220 pages
Publisher: Western Book/Journal Pr (January 1991)
Language: English
ISBN-10: 0936029242
ISBN-13: 978-0936029245
Product Dimensions: 8.9 x 5.9 x 0.6 inches